Country: USA
Corporate Rentals
Corporate Rentals is a USA-based furniture and household items provider Company that reached our SEO team intending to increase its engagement on social media and search engine ranking pages.
Their Challenges
In the Baltimore-Washington, DC, metro areas, our client is a well-known rental furniture and home goods provider. But in the world of the internet, competition has always been challenging. As a result, our team had a difficult time accomplishing the client's objectives.
Increasing interaction with our social media marketing campaigns was our most considerable difficulty. Additionally, it was challenging to outrank other websites on Google's search page. Our team obtained results that exceeded our customer's expectations thanks to high-quality backlinks, keyword-optimised social media posting, and quality content posting.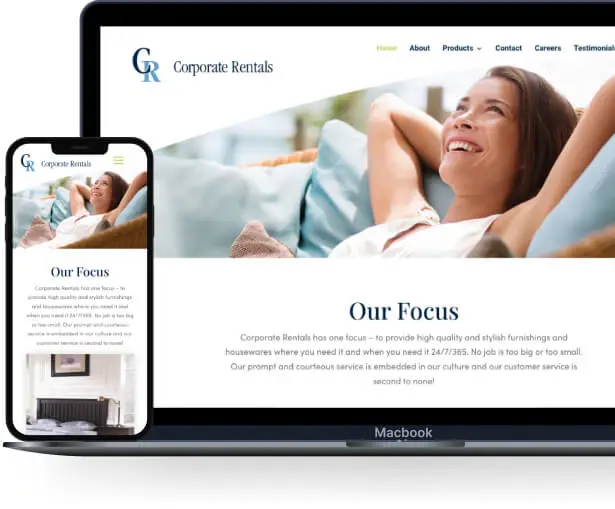 The Solution
The client had a firm grasp of social media marketing and SEO principles. He assisted with the local market's keyword research and let us know what he needed for marketing.
Even if the client's keyword list was good, we still needed to make improvements to get the best results from our efforts. After in-depth market research on the most recent marketing trends and client needs, we developed several descriptions. Effective keywords were added to social media posts with relevant content.
Here Are The Results
Our team at IDEALYSIS understands what our clients are looking for and provides them with appropriate assistance through a result-driven strategy.
Take Your Website To The Next Level To Make It Better.
Corporate Rental is a famous provider of rental furniture and household goods to corporate housing organisations, Insurance housing companies, property management businesses, and retail clients.
The outcome is achieved through engaging in a variety of challenging marketing initiatives. After a month of diligent labor, we achieved the best results and placed most of the website's keywords on Google's first page. We work hard to maintain audience engagement on social media platforms and the rankings on search engine result pages.